Allure is Home Depot's signature series of aluminum fences. Installing a fence is a long-term investment and can be expensive. By reading through these directions you can figure out whether Allure aluminum fence is the right choice for you before you buy any sections, posts, parts, or accessories. With a little preparation, the process can be a lot easier and you'll know exactly what you need to do to install a fence around your yard, pool, or business. The PDF we provide will be the basic installation manual offered by Home Depot. Although the PDF is incomplete, we provide the missing instructions for you, and a full installation manual should come with any fencing order. This page offers a similar layout and a few extra tips to make installation easier for you.
Remember: When installing Allure aluminum fences, keep in mind local municipalities may require permits and have different zoning laws or require other special considerations before modifying your property. Even if your location does not, it is generally a good idea to be cautious and install the fence at least 2" inside the property line. Additionally, utility companies may run power, gas, water, or other lines underground. Be sure to check with your local providers since these lines may run underground near where post holes would be dug along your planned fence line.
Fence Planning
After you've checked your local zoning laws and where utility lines may be running, it's time to get started. Before you order materials, you'll need to know how many aluminum fence sections, gates, posts, caps, and decorative accessories you'll need. If your property is relatively flat, you may be able to work with an accurate diagram of your property lines. If you don't have an accurate drawing of your property lines or plan to install fence sections on a slope, it may be best to go out and measure the fence line yourself.
Run strings along each side of the fence. This will help you get an accurate physical measurement for when you order materials. Also keep in mind that gates will need to be on level ground. As a general guideline, you will need a gate, line, or corner post for every section of fence and gate as well as two end posts. After you've got a good diagram and figured out how many posts you'll need, you can order your materials. Home Depot may not have everything on-hand, so allow time for them to ship fencing supplies from their warehouse to your local store. You may also be responsible for delivering the fencing to your property when buying through Home Depot. The company does not offer installation, but does partner with local building companies for installations.
Once you've gotten all the materials for your Allure fence, it's time to pick a day and gather your tools. Be sure to have either an auger or a post hole digger. If this is a do-it-yourself project, we recommend an auger, since post holers are less precise and are more physically taxing than mechanical and hydraulic augers. Nice weather is also important since it will make the work easier and cause fewer problems with the ground and concrete. Installing a fence can also be a lot of exercise and hard work if you've never done it before. If you plan to complete your fencing project in a few days, it might be good to have a few extra people. You will need the following materials and tools to install your Allure fencing:
Aluminum fencing sections, posts, gates, and decorative accents
Concrete
Measuring tape
A way to mark where fence posts will be placed
An auger or a post hole digger
A hack saw or circular saw
A rubber mallet
A screw driver and
A power drill
The first step when installing your fence is to dig post holes. If you plan to complete the project in a single day, it may help to dig all the post holes before mixing concrete or installing any fencing sections. If you plan to install the fence over the course of several days or a week, you may want to dig holes for the posts and number of sections you plan to install that day. Digging post holes more than a day in advance runs the risk of having rain or other environmental factors to damage the holes.
Gate posts are generally manufactured with extra aluminum alloy and have a thicker wall, so they are stronger and sturdier than line, corner, and end posts. As such, installing the gate is a good place to begin. To start, dig post holes about 3″ to 4″ wider than the gate on centers. Next, Home Depot's directions recommend that, for Allure aluminum fences, you do not install more than one gate per fence section to be installed. You can always install more gates when you reach that point in the fence line.
Be Careful! If you live in an area where ground frost occurs, the frost could extend into the concrete beneath your fence posts and cause the concrete to crack and destabilize the fence posts. The best course of action is to dig below where the frost reaches and extend the concrete to this depth. For example, you may need to dig deeper in North Dakota than Ohio. If you're installing fences in Arizona, this likely won't even be a concern. Local zoning laws may also specify a minimum or maximum depth for the concrete in post holes. Be sure to check with your local municipality before installation.
Installing Fence Posts
Once the post holes are dug and the post is in an upright position, set the concrete at roughly 4″ below the ground's surface so grass can grow over the post hole.  For easier lawn maintenance, set the concrete at 2″ – 3″. It is also recommended that if you are installing an aluminum pool fence, you use a maximum depth of 2″. Keep in mind that pre-punched posts must be facing the correct way to install fencing sections. Line posts are punched on opposite sides, corner posts on adjacent, and end posts on only a single side.
When installing fence post caps, use a rubber mallet to avoid damaging the post cap or moving the post as the concrete sets. Although it helps to use a rubber mallet, the hammer could still damage the post caps, so use caution when installing the caps. See Figures 2 and 3 for diagrams on post and post cap installation for Allure aluminum fences.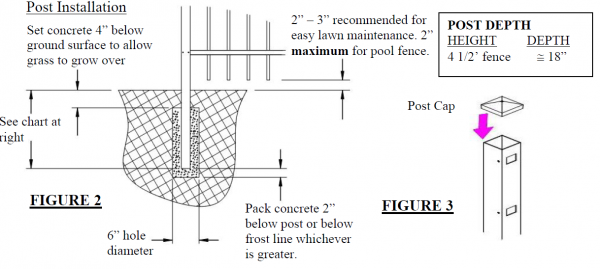 When installing a single gate, set the gate opening 1″ wider than the actual measurement of the gate. As an example, Allure's 48″ gates actually measure 47″ wide and the gate opening will need to be 48″ wide. For further information, see Figure 4. When installing a double drive gate, gate openings must be 2″ wider than gate width to accommodate the extra gate. For example, two 48″ gates will actually measure 94″ and require an additional 2″ during installation, totaling 96″.  For an installation diagram of a double gate, see Figure 5.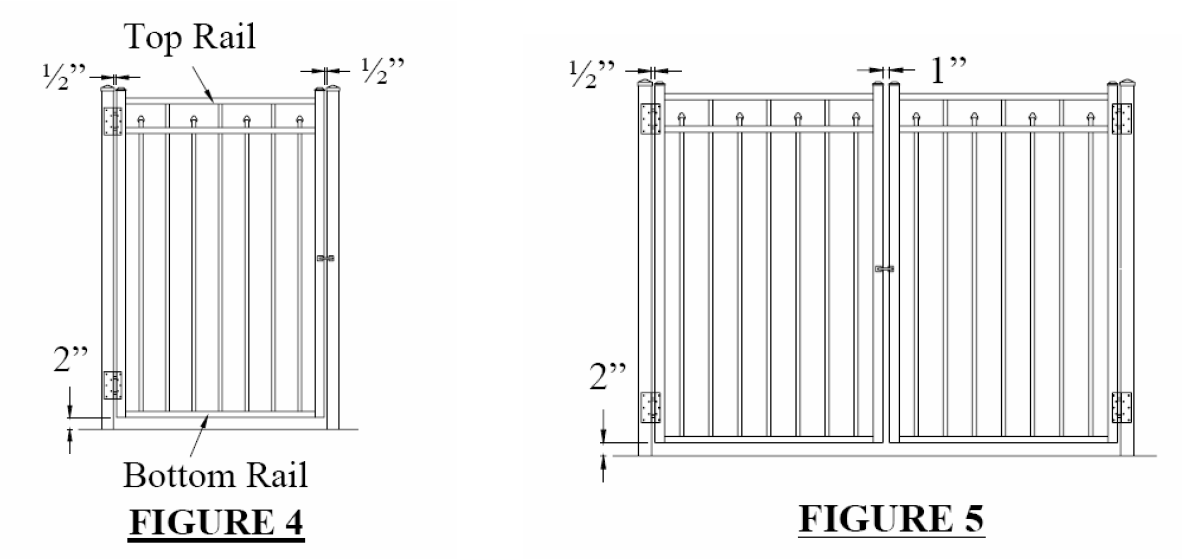 Note: When installing gate posts, note the direction the post is facing. Some aluminum fence posts have pre-punched holes. This means the left gate post may differ from the right gate post and the hinge post holes will be on opposite sides. This will impact which direction the gate swings. Keep this in mind when positioning gate posts. Allure gate posts usually do not have pilot holes, so you will likely need a power drill when installing your gate.
Next, fill the post holes with a stiff concrete mix and ensure that the concrete extends below the bottom of the post to create a solid foundation. This is especially important when installing gates. Brace the posts as necessary to keep them upright and straight while the concrete sets. The aluminum fence slots must be facing the correct direction, once the concrete sets, there will not be a way to change this.
Gate Installation
Warning: Do not install the gate before aligning the gate posts and the concrete sets. Gate posts are manufactured with more aluminum because they must handle the additional weight of the gate. Hanging the gate before the concrete sets could cause the fence posts to settle at an angle and cause problems with the remaining fencing sections.
Once the gate posts have been installed and the concrete sets, you can hang the gate. Remember, gates must be installed on level ground. Next, position the hinges as far apart as you can on the gate for maximum stability and clamp the hinge post leaf to the gate post. Position the hinge post leaf completely flush and plumb against the fence post and gate to avoid binding. See Figure 6 below.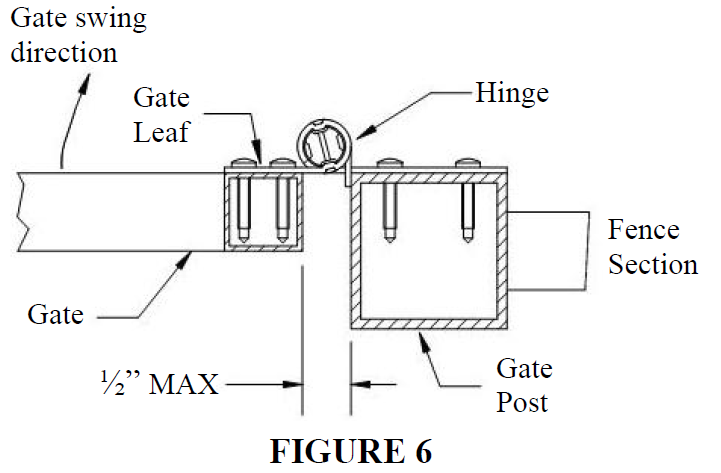 Now, attach the hinges to the post by drilling 7/64″ pilot holes and fastening with screws provided. Again, remember that the gate will swing based on the side of the gate post where you drill the pilot holes, so be sure to drill facing the direction you want the gate to swing in. Once the pilot holes have been drilled, center the gate over the pilot holes and attach it to the gate the same way it was attached to the gate posts.
If you plan to mount the hinge on a flat surface, you may need to modify the hinge post leafs so the hinge does not bind against the mounting surface. Mounting differs for other materials, such as wood or masonry. Contact a local building supply dealer and ask what fasteners they recommend for your mounting application. As a final step, test your gates to make sure there is a smooth, free swinging operation and install any latch hardware.
To take care of your Allure gate, lubricate the hinges using a graphite-based lubricant. Apply the lubricant at the top of each hinge on the fence and remove excess lubricant from painted surfaces as this may damage the treated surface and cause premature wear.
Drop Rods
When mounting drop rod guides, position the guide roughly two inches from the bottom of the gate by drilling two 7/64″ holes and attaching the guide with two #6 x 1/2″ self-tapping screws. Attach the drop rod catch 20 inches above the bottom of the gate in the same way you attached the drop rod guide. Before you fasten the catch, use the drop rod to align the guide and catch. See Figure 9 below for a drop rod guide and catch installation diagram.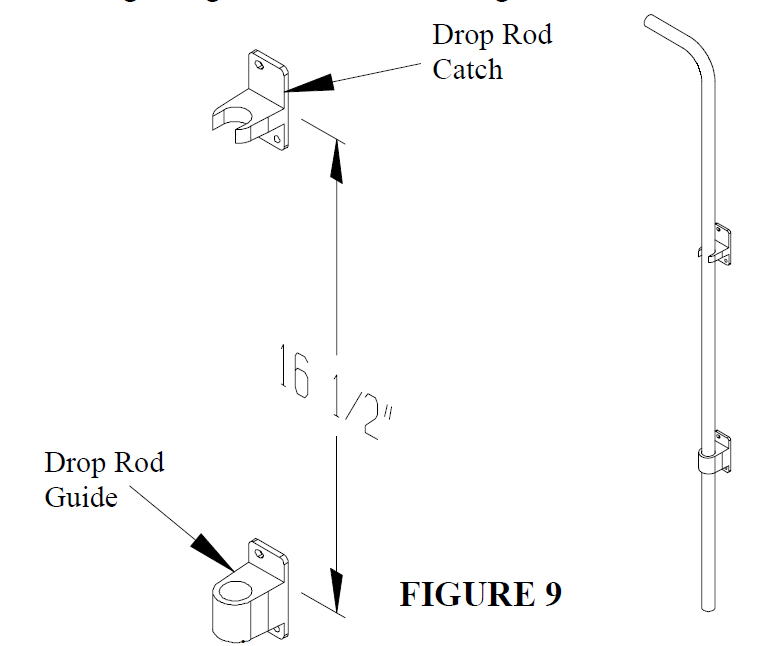 Once your gate, gate posts, drop rod guide, and drop rod catch have been securely installed, it's time to finish the rest of the fence. The aluminum fencing sections will slot into pre-punched or self-cut holes on the fence posts. Secure, brace, and set concrete for the line, corner, and end posts in the same way you installed the gate posts. Finally, slot in each fencing section and attach it to its respective fence posts. Soon, an Allure aluminum fence will be the newest aesthetic accent to your property.
Maintaining Allure Aluminum Gates and Fences
While aluminum fences are specially treated and relatively low maintenance compared to wrought iron and wood, they still require some care to last many years. Why not protect your investment with a little bit of basic maintenance? A few easy tips will help extend the life of your Allure aluminum gates and fences.
Gates:
Be sure to check your gate daily to make sure it swings smoothly and latches properly. If necessary, lubricate or adjust the gate.
Make sure the gate is free of any debris or objects which may damage the latch or hinges.
Be sure to replace worn and damaged parts and check the gate's fasteners for tightness.
Note: As with all mechanical devices, hinges will experience age and wear. Proper lubrication, readjustment, and occasional replacement will be necessary to increase the life of your new Allure aluminum fence. When entering or exiting your fenced in area, be sure to check and verify the gate has been secured as wind or other obstructions may damage the gate if it is not properly latched.
Fences:
If you live in an area where there is a yearly freeze and thaw cycle, it is a good idea to check and make sure the fence posts are secure and the concrete has not begun to crack.
If strong winds and storms are a problem in your area, it may also be a good idea to check posts and sections after large storms.
When mowing or edging, check to make sure the earth you've piled on top of the concrete has not become too thin. If the concrete becomes exposed to weathering or is chipped by lawn equipment, it may degrade faster than if it remained buried.
Routinely inspect the fence line for damage to the aluminum. While aluminum is unlikely to chip, flake, or rust, it pays to be cautious. Replace any damaged sections, posts, and concrete when you have a chance.
With these simple tips, you can extend the life of your Allure aluminum fencing materials indefinitely.